The answers are now posted in
Tuesday morning's "Inadequately described movies" game
. Overall y'all did pretty well. Now, who's posting the next round...? :)
The extra Jayne hat is up on eBay, or will be starting at noon-thirty. And, since I was screwing about with the scanner, a few leftovers I've been meaning to
inflict upon
um, share with y'all: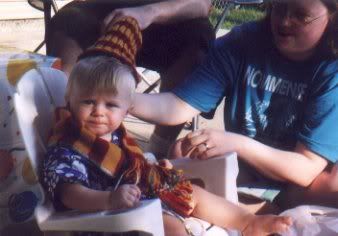 Drake shows off the Slytherin and Gryffindor sides of his scarf at his first birthday party. Yes, this is how long it takes me to scan things, I think he's driving by now...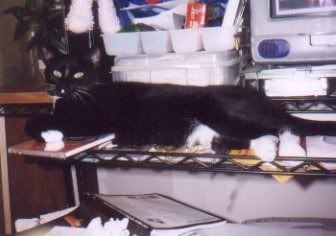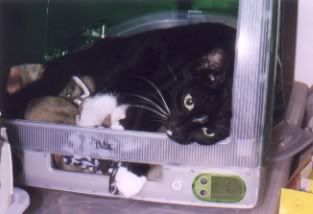 This is what I have to put up with when I'm at my computer. But as you can see, she
does
have her own iMac to play with...
Well, that's it, I'm off to find two of every animal to ride out the coming Apocalypse with... (Not that I exactly give a rat's ass about the Cubs either, but this is like hearing the Martians have landed... come to think of it, I probably know more about Mars than I know about Bridgeport, really)
Tags: pop_culture_babylon, state-of-the-cat, things-wot-i-knit