Dyed another batch of yarn Tuesday. I'm getting quite good at reproducing a colorway that looks like leprechaun sick. I'll know how well the other experiments have turned out whenever the sink-fairy gets around to miraculously emptying out the dinner dishes, so I can rinse these skeins out...
The weekend's other interesting yarn-related mail-call: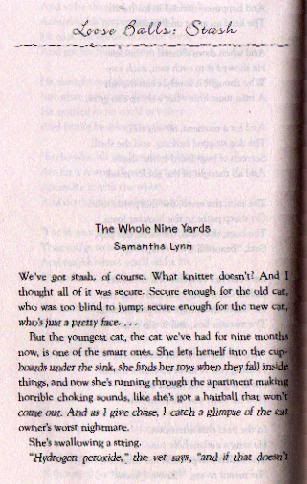 (Longtime Readers will guess, correctly, that this is a prettified-for-the-nonblog-audience version of
one of Snip's more harrowing adventures
.) And yes, I've already spent the small check that came with my contributor's copy on yarn -- it seemed fitting. But lordy, what a way to make a living, I can't even
find
the entry where I said I was thinking of submitting something to this, it's been so long...
[
EDIT, about half an hour later:
Ah,
that far back
, was it? No wonder I couldn't find it for a while... Hmph.]
Tags: fiction_and_sausages, pop_culture_babylon, state-of-the-cat, things-wot-i-knit, this_so-called_life_of_mine
feeling:
accomplished